Art Pottery for Modern Minimalism Décor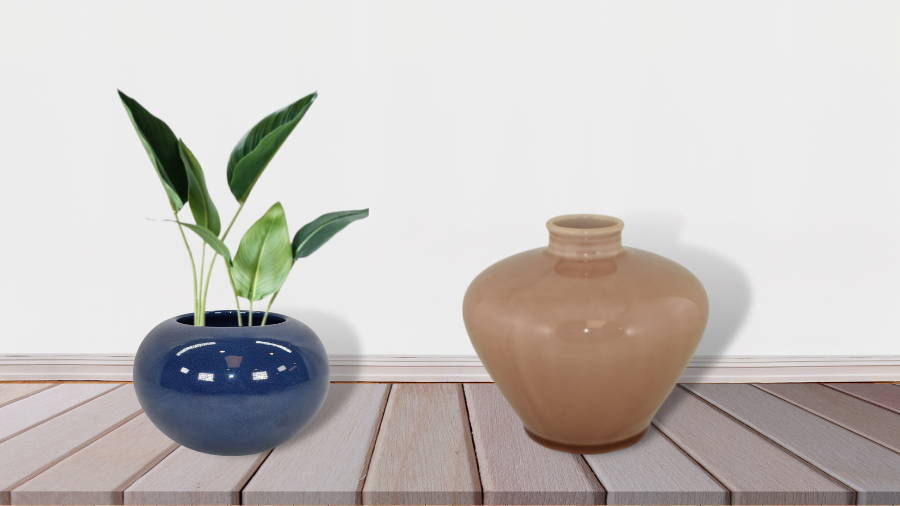 Modern Minimalism is a sophisticated style that sounds complicated but is really centered all around simplicity. If you're into the minimalist style or just looking to learn something new, we've got some great info and beautiful minimalist-friendly art pottery inspiration for you.  
What is Modern Minimalism?
Launched at the turn of the 20th century, the Modern Minimalism Movement has its roots in both Japanese and high-tech styles. It was devised largely by designers and architects who decided they'd had enough with the highly decorative Art Nouveau style that had swept across Europe and the Americas in the 1890s. They generally preferred the idea of a much lighter, brighter, and more functional approach to building and interior design.   
The most famous advocates of the modern minimalistic style include  
Adolf Loos, who insisted that ornamentation was degenerate.

 

Walter Gropius, a German-American architect who founded the Bauhaus School.

 

Charles-Edouard Jeanneret, better known as Le Corbusier, the famous French architect and furniture designer who pioneered the idea that a house is a machine for living in.

 

Frank Lloyd Wright (1867-1959), an American architect and visionary who changed the way we build and live.  

 
Industrial technology and absolute functionalism were at the heart of Modern Minimalism.
In essence, true Modern Minimalism aims for clean perfection. While colors lean toward monochromatic with selective accents, the focus is on furniture and artwork. Pottery makes an excellent minimalistic artwork piece.  
You might also be interested in the more modern minimalistic movement that appeared in the U.S. in the late 1960s after the death of Frank Lloyd Wright.   
Modern Minimalism in the U.S.
While contemporary minimalism is based on the traditions of the earlier Modern Minimalism Movement, it is generally more accessible.  
Scholars sometimes refer to 20th-century minimal art in the U.S. as "reduced-content art." In the 1960s and 1970s, it was often defined by an extreme simplicity and "less is more." 
Ceramists who adopted a minimalist approach chose methods to prevent or control many of the encouraged in other styles. This includes ash sparkles, kiln drops, flame marks, metallic lusters, and color changes achieved by thinning at the edges.  
While these are stunning effects, they will generally be frowned upon by Modern Modernism purists.  
How Does Art Pottery Work With Modern Minimalism?
There is no place for clutter in Modern Minimalism.  
Choose pieces of art that will make a statement. There is no doubt that if you choose well, your art pottery will add to the style. Position pieces carefully for maximum impact. Sculptural qualities are also important. 
Choose interior colors that fall on the neutral spectrum, like white, black, shades of gray, etc. Then choose special pieces to accent with pops of color. In theory, choosing a piece of pottery that will work with modern minimalism just means choosing a piece of pottery that doesn't take away from the feel of a sleek, clean aesthetic. 
What to Look For When Choosing Art Pottery That Fits with Modern Minimalism
We've already said that it's important to choose carefully when aiming to complement a home that has been designed and decorated in a modern minimalist style. Minimal forms and lines with monochromatic themes and pops of statement color is the goal.  
Simplicity is key.   
What Just Art Pottery Offers Those Who Favor Modern Minimalism
The good news is that we have all kinds of art pottery that will fit a modern minimalistic approach. Black, white, charcoal, gray, and warm and cool neutral shades are great choices but again, adding splashes of color won't ruin your aesthetic. 
Contemporary Art Pottery
Contemporary art pottery often has a minimalist aesthetic. The same applies to mission-style and craftsman pottery. Check out our collection of contemporary art pottery. You'll find plenty of neutrals but don't be afraid to add a bit of color and aspects of nature with collections like Door Studio Pottery.  
Mid-Century Modern Art Pottery
Art Pottery artists do not always stick to a specific style, so don't be afraid to search among a variety of makers to find the right piece for your space.  
If you look out for vintage Rookwood art pottery, for example, you'll find sleek and glossy paperweights, bookends, and figurines that will make eye-catching focal points in any room. Mid-century Modern blends beautifully with minimalist decor, and Rockwood has some gorgeous mid-century modern pottery options.  
Studio Art Pottery
If you're not sure where to start, Studio Art Pottery might be a good idea. We carry a very eclectic variety of pieces in this category.  
Vist JustArtPottery.com to find your perfect piece of modern minimalist art pottery 
We are bringing in new inventory every day, and most pieces don't hang around long before they're sold. This is due to many of them being one-of-a-kind. Feel free to reach out to us with any questions! We love pottery, and we love learning about our customers' tastes and preferences. 
---